In September 2021 Sumitomo launched the T-502S, the latest addition to the manufacturer's already extensive range.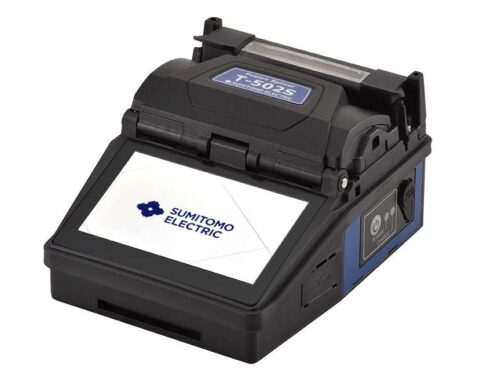 Infractive is here for you !
In a nutshell
The T-502S is a 3-axis active clad alignment fusion splicer.
It is fitted with active V-grooves for 3-axis alignment, making it less sensitive and less demanding in terms of cleaning and maintenance.
It's a fusion splicer suitable for subscriber connections (D3). Small and light, it's easy to handle and is designed to maximise your teams' time in the field.
Good to know
This new fusion splicer comes with a carrying case containing a magnetic worktable that you can sling over your shoulder making connections effortless: you have all your tools within easy reach.
Intelligent fusion splicer
Equipped with the latest NanoTune artificial intelligence technology, the T-502S can help prevent cleaving errors (which account for more than 80% of repair work in the field!).
Thanks to the machine-integrated SumiCloud app, you have an overview of your teams' work and, most of all, you can provide them with additional support in the field. SumiCloud provides access to embedded best practice videos, the app also guides you through the first steps of preventive maintenance and alerts you of any malfunctions that require further maintenance.
T-502S technical characteristics
Splicing in 6 sec
Approx. 1 battery. 250 splices (complete cycle)
Oven heating time : 12 sec
Colour touch screen
Compact and light: 1.1 kg (with battery)
Ces articles pourraient vous intéresser
Nous étions au rendez-vous annuel de l'UTHD, là où nous avons pu aborder les futurs enjeux du secteur des télécoms.