Speculative job applications
Can't see the job you're looking for? Feel free to complete a speculative job application – we're always looking for new talent!
Unlock your potential
We contribute to the performance and development of our organisation through the advancement of our colleagues. The Management and the Human Resources Manager guide our employees in their careers. At Infractive, you have the opportunity to complete training courses to acquire new skills that you need to do your job, but most of all, you have access to training that will allow you to progress within the company.
Diversity is at the heart of our performance
Whatever your role in our organisation, you'll be encouraged to make your voice heard and work together in the interest of Infractive's development. Our prosperity largely comes from our ability to work as a team. We owe our success to each individual's commitment. Our guiding principle is customer satisfaction. It's our primary focus and it's in this context that we're moving forward together.
We care about the well-being of our employees and we want to maintain a healthy and kind working environment. This is why actions are taken to protect our teams from psychosocial risks. The Human Resources and Internal Communication departments work together on a lot of issues (awareness-raising, valuing employees and their history, their successes, etc.).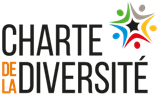 Infractive is a signatory of the French Diversity Charter. Our company is committed to promoting diversity and to fighting discrimination.
We're equally as proud to be doubly certified by Choose My Company, HappyIndex®Trainees and HappyIndex®AtWork.